Books
New
Great Australian Outback Nurses Stories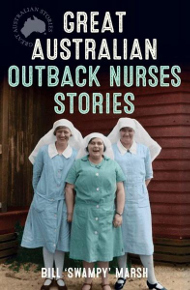 With hearts as big as the outback, rural and remote nurses are a dedicated and gutsy bunch who work selflessly to care for their communities, often in isolated and inhospitable conditions, with few resources but plenty experience, courage and care. Outback nurses deal with it all: broken limbs, labour pains, snake bites, sunburnt backpackers, lost explorers, vaccinations, defribrillations—even the occasional crook cattle dog. One thing they are never short of is stories to tell.
I've been a trained nurse for almost sixty years now and I've never once gone to work thinking, I don't want to do this. In fact, I've always said how it's been a privilege to be a nurse in areas where there were no counsellors, no psychologists, nothing—just me.
He's a legend. Thank God these Australian stories are being collected and recorded for us for now and for ever after—Cherry Axel
Order from
ABC Shop online (Pbk/MP3/CD) or Booktopia
Great Australian Outback Teaching Stories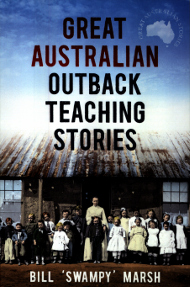 From Back o' Bourke to the Australian Alps, in schools on stations, missions, mines, and over the air, it takes a special kind of person to be an outback teacher.
Back then, not only did we have to teach the three Rs but also sewing, arts and craft, music, physical education—you name it. Plus there were the duties of gardener, cleaner, nurse, registrar, office administrator, free milk dispenser, librarian and, on occasions, school bus driver. Oh, and in one school I was even responsible for 'mother craft'. And being male and just nineteen, you might imagine my surprise when a young girl asked me, 'Sir, what's the best milk for babies?'
Weekly Times Melbourne—At first glance I thought this would be one for the chalkies only, but as I read through each short story I was lured in. Marsh is known for capturing the essence of outback Australia and Great Australian Teaching Stories will not disappoint. Here he has put together another great collection in his ever expanding "Great Australian Outback" series.—Edwina Hall
Order from
ABC Shop online (Pbk/MP3/CD) or Booktopia
---
Great Australian Outback Police Stories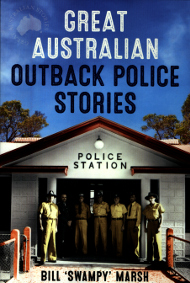 Boasting the biggest beats in the world—some as large as France—Australia's outback police have seen it all: natural disasters, incredible acts of selflessness, unspeakable crimes and daring rescues, just to name a few. And they've met some unforgettable characters along the way: the murderer who stuffed his victims's bodies down wombat holes, the policeman who arrested his own wife, the prisoner who risked his life to rescue his own captor from certain death.
'I can tell you, you meet some strange characters in this game.'
Reviews—The Book Club—Great Australian Outback Police Stories—It's fascinating reading and fun to boot.—Vanessa Jones
Melbourne Weekly Times—Great Australian Outback Police Stories are well worth a read. They capture a diverse collection of anecdotes that recognise the officers and their families, who settled in some of the most remote and trying locations in this country, facing tough days more often than not to serve and protect their communities.—Edwina Hall
SA Life—Great Australian Outback Police Stories is a memorable collection of real-life stories about those serving in the heart of Australia.
Order from
ABC Shop online (Pbk/MP3/CD) or Booktopia
---
Amazing Grace—Stories of faith and friendship from outback Australia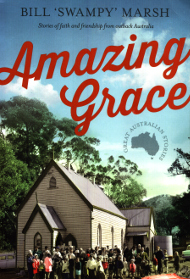 Priests, pastors, and preachers play a vital part in the lives of people in remote and regional Australia. Often from the city, they are posted to places they have never even heard of to provide spritual care for communities over areas larger than they could ever imagine. No matter their religion, they are all committed to helping people in the busy—whatever way they can! They shear sheep, put up fences, travel hundreds of kilometers to visit their parishioners, act as counsellors, set up schools and programs, and advocate for Aboriginal and asylum seeker rights.
The term 'Bible bashing' took on new meaning in our household…Mum used to suffer from bunions; that is until she started bashing them with the heavy family Bible, believing the Lord's weight behind the Lord's word could move anything from mountains to bunions.
Order from
Booktopia
---
Great Australian Outback School Stories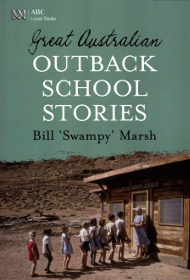 This collection perfectly captures the experience of life growing up in the outback. Whether you loved school or not, these stories will bring a smile to your face and maybe even a tear to your eye, as students and teachers alike share their yarns and memories of a time gone by.
…this little kid, he spun around at me and he snapped, 'Piss off, Miss.'
Of course, I immediately replied with, 'Excuse me. In this school we always use our best manners when we talk to teachers and adults. So what should we say then?'
And this little kid, well, he looked up at me all sheepish and he said, 'Well then, Miss, piss off, PLEASE.'
Reviews—'To gain an understanding fo what underpins true, blue, fair dinkum, Aussie culture relax with Bill Swampy Marsh's Great Australian Outback School Stories. Childhood student experiences replete with vivid descriptions provide coluorful vignettes whilst teachers and parents add anecdotes and poignant memories. The pages teem with life and crackle with vibrant Aussie humour.' ~Hazel Menehira
Order from
Booktopia
---
The Complete Collection of Australian Flying Doctor Stories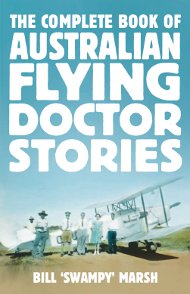 Since its establishment in 1928 by the Reverend John Flynn, the Royal Flying Doctor Service has been providing essential medical care to people in remote and regional Australia. Tough, brave and passionate, the Flying Doctors have become an enduring symbol of what it means to be Australian. Bill 'Swampy' Marsh has spent many years travelling the outback, collecting stories and yarns from the doctors, nurses and pilots, as well as the people whose lives they have touched. Collected in one edition for the first time, The Complete Book of Australian Flying Doctor Stories features more that 180 stories of adventure and comedy, sadness and courage, that vividly bring to life the heart and soul of outback Australia.
Order from
ABC Shop online or Booktopia
---
Old Favourites
---
If you would like to order personally signed
books or CDs then
contact Bill 'Swampy' Marsh.