Novels
'For me, Beckom was one vast playground. From the plover-infested homestead to its dam crawling with yabbies; along the meandering mysteries of the Mirrool Creek; up to the forgotten pine forest; over to the dusty silos of harvest. This was my backyard. I could leave home at sunrise and return ragged at sunset, my heart overflowing with a day of games and adventures.
What more does a kid need?'
Journey to a simpler time with Bill 'Swampy' Marsh, one of Australia's favourite storytellers…and revisit a way of life that has all but disappeared. Swampy will transport you to a time when the Bush and storytelling were essential parts of life. From Trangie to Taree, Manildra to Moruya, loveable and eccentric Aussie characters area brought to life with humour and affection in a timeless story of mateship and manhood, cricket and footy, young love and heartbreak, battlers and larrikins, courage and loyalty. The simple things. The important things.'
Order from
Dymocks (Ebk)
Booktopia (Ebk)
---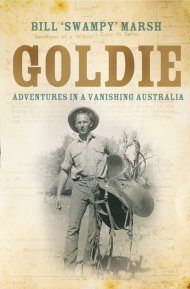 'Like, I only thought he was joking. But the bore hole of the rifle's staring straight at me. Then I sees the look in his eyes. And it wasn't a good look, aye. I think, Gees this feller's fair dinkum…Just as I did there's this "Bang!"'
(ABC Books July 2008)
And Jack 'Goldie' Goldsmith is as fair dinkum as you can get, with a knack of always finding himself in some strife or other. Born during the worst year of the Depression he escaped an abusive stepmother and headed out to western New South Wales.
Times were tough for a young kid so for the next few years he tramped it from place to place, trapping rabbits, picking spuds, working on the railways and building fences, doing anything for a little money and a bit of tucker.
After a brief stint in the army during the Korean War he followed his real dream, to work on the big cattle runs in Queensland's Gulf Country. There he made a living from working in the stock camps, horse breaking, as a drover and from cattle duffing.
'Goldie' has now told his story to Bill 'Swampy' Marsh, one of Australia's best-loved storytellers. It's a rip-roaring yarn, full of adventure–sometimes funny, sad, surprising and even painful. Goldie draws us deep into a world that we should cherish before it passes forever.
Outback Magazine—'Goldie is an excellently told story that is cleverly crafted by the author to read like an autobiography. It is enchanting in its simplicity and touching in its rawness.'
Mudgee Guardian—'Bill 'Swampy' Marsh has written a real jewel of a book, about this tough young Aussie bloke who 'made do' during the tough days of the Depression. Pick up a copy. You'll really enjoy it, aye!'
During 2008 Goldie was nominated for the Prime Ministers Literary Awards and for Queensland Premier's Literary Awards.
Order from
Google Books
---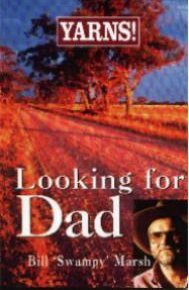 'When I reach the (crematorium) wall I don't want to leave. Something holds me. I move closer to Dad's space. Then I'm overcome by the need to touch the brass plate, just like Mum did. When I do, its coldness bites me like savage dry ice. It's not what I expected. A sudden surge of anger explodes from within. 'Why didn't you ever tell me you loved me, Dad!' I shout. Then the plaque softens to my touch. It dampens like tears. And I feel a warmth, far warmer than human, a love far deeper than life.'
(ABC Books 1998)
Graham Seal (Reviewer,The West Australian)—'Bill Marsh…proves to be a skilled weaver of contemporary yarns–short, dry-humorous and tightly-focused narratives that end with a twist. He describes incidents and places with wry humour, an excellent ear for colloquial dialogue and a good eye for Australian icons, many of which are fading fast.'
---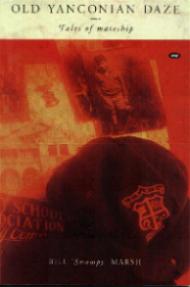 'This was footy season. The last sorts we wanted to model ourselves on were a bunch of choir singers. We modelled ourselves on real men. Men who smoked, drank and swore like troopers. Those were our heroes, blokes who sang along with Slim Dusty on the wireless and set the sheep dogs wailing.'
(Wakefield Press 1995)
Max Fatchen AM (Writer/Journalist)—'For me it is a gloriously bawdy, warm-hearted and perceptive picture of childhood and, like a diamond, has many facets that sparkle in the mind. The overall effect is of the human experience of youth, those precious memories that we hold like gold in our minds as we grow older and look back on something that was memorable and tugs at our heartstrings as we reminisce.'
---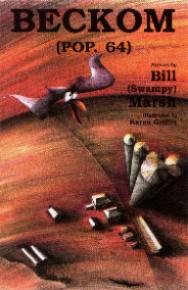 'There were fifteen school kids in all, ranging from 5 to 14 years old, all of us weathered by life's elements, even at our tender ages; washed by flood and rain, burnt by sun and bushfire, dried to the core by drought, frozen by frost, pitted in the skin by dust and hail. But not a single one among us knew the first thing about the gentle art of song.'
(Hudson Publishing 1988)
Katharine England (Reviewer, The Advertiser)—'From the ridiculous to the sublime, from the bestial to the bizarre, from the tall to the tender, Bill Marsh holds his readers in the palm of his hand and tickles them with beautifully controlled yarns of childhood in the kind of town that is such a feature of our culture, if rarely our personal experience.'
---
If you would like to order personally signed
books or CDs then
contact Bill 'Swampy' Marsh.