Great Australian Flying Doctor Stories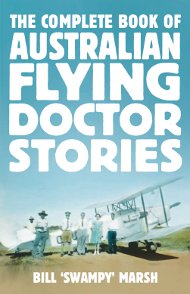 Since its establishment in 1928 by the Reverend John Flynn, the Royal Flying Doctor Service has been providing essential medical care to people in remote and regional Australia. Tough, brave and passionate, the Flying Doctors have become an enduring symbol of what it means to be Australian. Bill 'Swampy' Marsh has spent many years travelling the outback, collecting stories and yarns from the doctors, nurses and pilots, as well as the people whose lives they have touched. Collected in one edition for the first time, The Complete Book of Australian Flying Doctor Stories features more that 180 stories of adventure and comedy, sadness and courage, that vividly bring to life the heart and soul of outback Australia.'
Order from
Dymocks (Pbk)
Booktopia (Pbk)
HarperCollinsPublishers (US)
---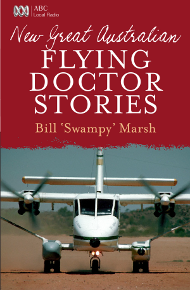 'Where's your thumb?' the doctor asked the injured ringer.
'Oh, we stuck it over there on the gatepost, fer safe keepin'.'
And just as the doctor turned around to the gatepost, he saw a crow heading skyward, thumb and all.
(ABC Books 2010)
Featuring the colourful and funny work of legendary Broken Hill artist Howard William Steer, master storyteller Bill 'Swampy' Marsh once again reaches into the heart and soul of outback Australia with stories of heroism and heartbreak and everything else it takes to live and work in this vast land of ours.
Through fog, lightning, thunder, flooding rains and dust storms, the Flying Doctor braves the elements to get to the remote outback landing strips where they're needed and the tales they live to tell will have you shaking your head in amazement. From the pilots, doctors and nurses who spread their 'mantle of safety' throughout the remote inland of Australia, as well as the men and women they treat on the ground, comes a brand-new collection of Flying Doctor yarns as told to master storyteller Bill 'Swampy' Marsh.
Order from
Dymocks (Ebk)
Booktopia (Ebk)

---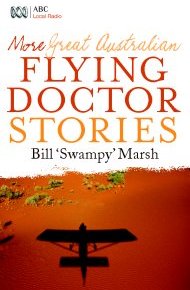 'The reverend John Flynn's dream was to create a "mantle of safety" across Australia for all remote and outback people. The Royal Flying Doctor Service does that.'
(ABC Books 2007)
Settle back with some of the toughest, bravest, most laconic and passionate people you're likely to meet–and those are just the doctors, nurses, and pilots!
Then there are the patients–like the Crook Cocky at Kajabbi or the Easter Bunny, found hopping down the highway near Tibooburra, stark naked, except for a pair of underpants on his head and a carrot stuck where the sun doesn't shine.
More Great Australian Flying Doctor Stories; these yarns are about life, death, fear, courage, tragedy, comedy, craziness, and everything it takes to live and work beyond the back stump.
ABC Books—New from master storyteller, Bill 'Swampy' Marsh. A collection of fantastic yarns from the heart and soul of the outback.
Order from
Dymocks (Ebk)
Booktopia (Ebk)
---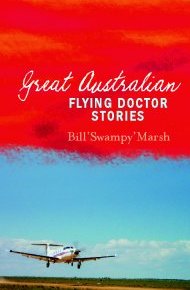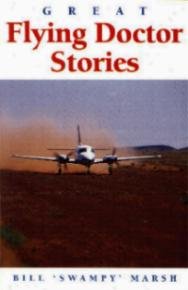 '"What can we do now?" we were thinking (now that one of the pack of dogs had eaten the chap's amputated finger). "Okay, we can knock these dogs out, open them up one by one. Then, when we find the finger we can assess the situation and take it from there." But the fellow must have read our minds. "Ah," he said, "take me word fer it. The finger was pretty much stuffed. What's more, there's no bloody way yer gonna cut open any of my dogs just to look fer me missing finger. I got nine of the buggers left, anyways."'
(ABC Books 1999 and new 2007 edition)
David Harris (reviewer & writer)—'Bill Marsh has crafted an enthralling swag of first-hand accounts from all walks of life just in time, before reality vanishes into urban myth. With fascination we eavesdrop on wonderful, frightening, hilarious, tragic and poignant true stories, but we have more than just a remarkable anecdotal record–we have a chronicle that keeps us in touch with the independent, inspired, and often larrikin-spirited pioneers of our inland.'
Order from
Dymocks (Pbk/ Ebk)
Booktopia (Pbk/ Ebk)
Collins Bookseller (Pbk)
---
If you would like to order personally signed
books or CDs then
contact Bill 'Swampy' Marsh.